Disclosure: This post contains affiliate links and if you buy something through this link I receive a commission at no extra cost to you. I only recommend products and services I've used and trust.
This is a compares Bluehost vs Lyrical Host. It evaluates the differences and straights of each.
These numbers are based on the cost of a single year using Bluehost's "Basic" plan vs Lyrical Host's "Tiny" plan.
Blue Host
Lyrical Host
Websites
1
1
Hosting Cost
$4.95/mo
$10/mo
Renewal Cost
$7.99/mo
$10/mo
Domain Registration
Free
$14.99
Domain Renewal Fee
$17.99
$14.99
Domain Privacy Fee
$14.88
Free
Free SSL
x
x
Subdomains
25
Unlimited
Email Accounts
5
6
WordPress
1-click
Pre-Installed
30 day Guarantee
x
x
Migration Fee
$149.99
Free
Privacy Fee
$14.88
Free
Automatic Backups
Monthly
Daily
Malware Scans + Cleaning
$47.88/yr
Free
Security
x
x
Customer Service
7/10
10/10
Tech Support
6/10
10/10
Payable Currency
USD
USD, CAD, AUD,
EUR, GBP
Plans
Comparing Bluehost vs Lyrical Host you really have to look at the details to make a clear decision.
Bluehost
If you commit to Bluehost for 2 years the cost drops to $3.95 per month and for 3 years it drops to $2.95 per month.
You must pay it all in one lump sum when signing up.
Lyrical Host
Lyrical Host also offer a 10% sign up discount to Blog Like a Business readers when using the discount code "Business."
Aside from that, their prices stay the same even upon renewal.
They offer a monthly plan for only $11.99 per month, a 6 month commitment instead of a year at $10.00 a month.
In addition they offer a 1 year plan, 2 year plan, and 3 year plan.
Web Hosting
Both Lyrical Host and Bluehost offer affordable WordPress web hosting. Each of their smallest plans host one website provide a free SSL certificate, and more.
While Bluehost at first seems like the more affordable of the two, when you factor in the cost of malware scanning and cleaning this no longer holds.
Also, upon renewal the price jumps to $7.99 which is something to take into consideration as well.
Domains
Bluehost
One of the Benefits of Bluehost they give you a free domain for the first year. However, the renewal cost for the domain is $17.99.
In addition, Bluehost charges a privacy fee of $14.88 to keep your personal information out of public record.
Lyrical Host
Lyrical Host does not give you the domain free for the first month, however there is no privacy fee so you break even.
However, when you factor in that the renewal cost, you're paying less than of Bluehost fees.
Pro Tip!
You can actually sign up with one company for your domain and another for your hosting company.
This means, if you choose to have your WordPress site hosted with Bluehost you can still register your domain with Lyrical Host.
Privacy
Bluehost
Bluehost charges $14.88 for a privacy fee which they do automatically upon renewal even if you didn't sign up for it in the first place.
This fee is to keep your name, phone number, address, etc out of public record and help prevent identity theft.
Lyrical Host
Lyrical Host believes that the privacy of your personal information should be a given. So, they do not charge you to keep your information to themselves.
Migration
Bluehost
When migrating your website information from hosts like WordPress.com, Blogger, and others Bluehost will change a $149.99 migration fee.
Lyrical Host
Lyrical Host offers free migration with a migration expert.
Speed
Bluehost
Bluehost offers space on their 50 GB SSD Storage.
Lyrical Host
Lyrical Host offers 30 GB of SSD web space. However, the hardware used is more modern and higher end so it is much faster.
Website Speed Analysis
Bluehost
Bluehost does not offer website speed analysis but they will send you a link to a website speed test that will give you a general review.
This does not include a plugin analysis.
Lyrical Host
Lyrical Host offers a free website speed analysis by their support team and they tell you know which plugins are slowing down your site.
They can implement these changes for you on request.
Backup
Bluehost
Bluehost offers free monthly backups of your website.
Lyrical Host
Lyrical Host offer free daily backups.
Malware Protection
Bluehost
Bluehost does offer an opt-in malware protection and cleaning for a $47.88 annual fee and additional work at an additional cost.
Lyrical Host
Lyrical Host provides this automatically and for free.
Customer Service
Bluehost
Bluehost was known to have questionable customer service. After two years with them I can honestly say I didn't have any terrible experiences. I found them easy to reach and helpful.
Lyrical Host
Lyrical Host has exceptional customer service by any standards. Additionally, it is easier to communicate with them since they don't follow a script and they are fluent in English since it is not outsourced.
Tech Support
Bluehost
In my experience Bluehost's tech support always tried to be helpful. However, they were clearly not specialists and combine that with not native level English it could be challenging to get the problem across clearly.
Lyrical Host
Lyrical Host has an unbeatable tech support with in-house tech experts.
Summery
After comparing Bluehost vs Lyrical Host, it seems clear that it depends on what your goals are.
If you are looking for something dirt cheap and don't care about daily backups and malware protection then Bluehost is a good choice.
However, if you are willing to pay a little more for better support, faster speed, and over all quality then Lyrical Host is the better choice.
How to Signup with Lyrical Host
Signing up with Lyrical Host is quick and easy. It took me no more than five minutes!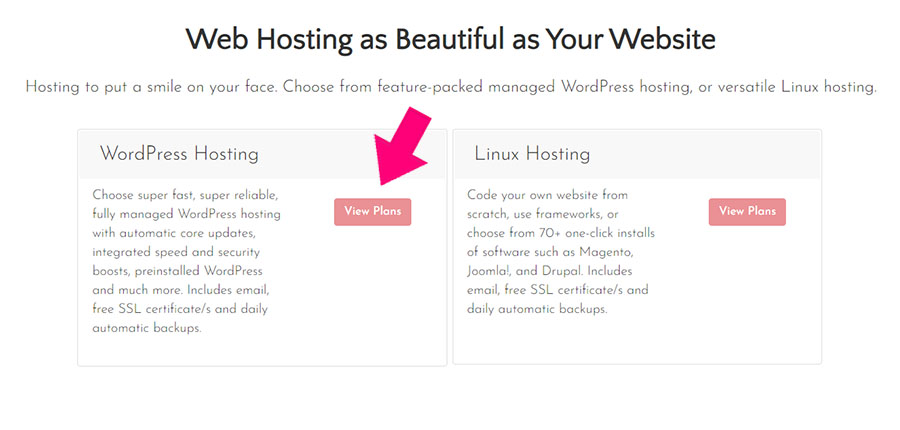 Do yourself a favor and go with WordPress hosting. It is easier and half the SEO is built in for you.
You can also use free or buy themes instead of hiring a designer.
I love the Trellis because it is light weight and has beautiful themes. I also love that it does the work of a bunch of plugins and is built to play well with my favorite plugins.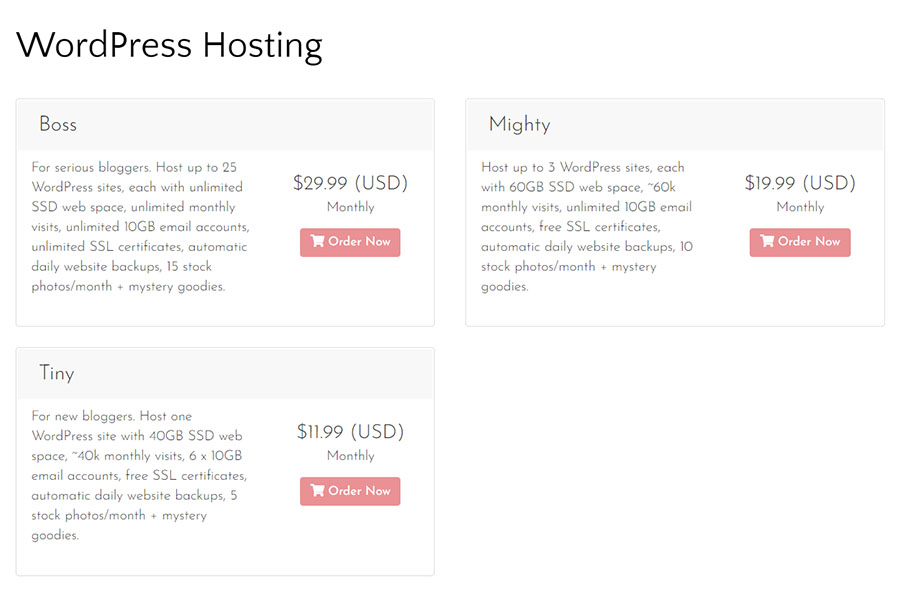 When I switched from BlueHost to Lyrical Host my blog was big enough that I needed the Boss plan.
However, you need to choose what's right for you and that you can grow with.
For bloggers just starting out and not big enough to apply to Mediavine, I always recommend the "Tiny" plan.
If you get under 60,000 sessions a month, the "Mighty" plan should be a good fit.
However, you may want to compare Lyrical Host to Agathon and decide which is better for your needs.
If you are big enough to need the "Boss" plan, and you are working with Mediavine or another ad network, seriously check out Agathon instead.

Use the promo code "Business" to get 10% off of your first plan! If you sign up for a year it is like getting a month free!